Income Tax MTS Tax Assistant and Income Tax Inspector Recruitment 2021 :- आयकर विभाग भर्ती Chief Commissioner of Income tax Mumbai के द्वारा अनेक पद पर भर्ती के लिए Income tax department Recruitment 2021 का नोटिफिकेशन जारी किया गया है। MTS, tax assistant and income tax inspector. के पद पर 155 वैकेंसी जारी की गई। यह उन सभी उम्मीदवार के लिए सुनहरा अवसर है जो सरकारी परीक्षा की तैयारी में लगे हुए हैं। आवेदन पत्र का तरीका ऑनलाइन होगा पीछे और योग उम्मीदवार यदि आप आवेदन करना चाहते हैं तो नीचे दिए गए लिंक के माध्यम से आप आवेदन कर सकते हैं।
Income Tax MTS Tax Assistant and Income Tax Inspector Recruitment 2021
मुंबई के आइटम एमटीएस आयकर निरीक्षक और सहायक के लिए स्पोर्ट कोटा के उम्मीदवारों की भर्ती के लिए नोटिफिकेशन जारी किया है आयकर विभाग भर्ती 2021 की महत्वपूर्ण जानकारी नीचे टेबल में दिए गई है।
Income Tax MTS Tax Assistant and Income Tax Inspector Recruitment 2021

Apply Mode :

Online

Last Date to Apply :

25/08/2021

Total Vacancies :

 155 various

Department :

Income Tax

Location :

Mumbai

Educational Qualification :

 10th, Greduation or Sports
Income Tax Inspector/Assistant And MTS Recruitment 2021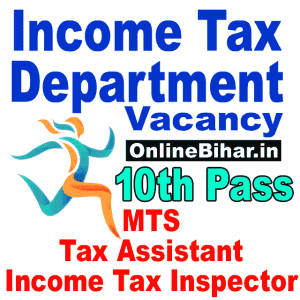 Important Dates of

Income Tax MTS Tax Assistant and Income Tax Inspector Recruitment 2021

Starting Date to Apply Form :

08/07/2021

Last Date to Apply Form :

25/08/2021

Last Date for Final  Submission :

25/08/2021

Last Date for Feel  Submission :

NA
Application Fee of

Income Tax MTS Tax Assistant and Income Tax Inspector Recruitment 2021

Category
Amount

UR/OBC  :

Rs. NA/

SC/ST :

Rs. NA /
PWD :
Rs. NA /

Payment Mode :

Online Pay Through Debit Card, Credit Card or Net Banking
Income Tax MTS Tax Assistant and Income Tax Inspector Recruitment 2021
Age Limit ( as on 01-07-2021 ) 

MTS

18 – 25 Years

Tax Assistant

18 – 27 Years

Inspector of Incom Tex

18 – 30 Years
Age relaxation is applicable as per rules
Post Details of

Income Tax MTS Tax Assistant and Income Tax Inspector Recruitment 2021
LIST OF GAMES/SPORTS
1. Athletics -,100 Metres, 200 Metres, 400 Metres, 800 Metres, 1500 Metres, 5000 Metres, 10000 Metres, 100 Hurdles, Long Jump, Triple Jump, Shot Put, Discus Throw, Hammer Throw, Javelin Throw,
High Jump, Pole Vault.
2. Swimming – 100m (Butterfly), 100m (Breaststroke), 100m (Backstroke), 100m (Freestyle)
3. Squash
4. Billiards
5. Chess
6. Carrom
7. Bridge
8. Badminton
9. Lawn Tennis
10. Table Tennis
11. Shooting
12. Weightlifting
13. Wrestling
14. Boxing
15. Judo
16. Gymnastics
17. Body Building -Below 70 Kg, 70 Kg to 80 Kg
18. Volleyball
19. Basketball
20. Football
21. Kabaddi
22.Cricket
Selection Process Of 

Income Tax MTS Tax Assistant and Income Tax Inspector Recruitment 2021
1. Screening Test
2. Interview
आवेदन करने वाले उम्मीदवार का आवेदन सत्यता के बाद शॉर्ट लिस्टेड किया जाएगा शॉर्टलिस्टेड कैंडिडेट को चयन के लिए डॉक्यूमेंट वेरिफिकेशन करवाना होगा उसके बाद जरूरत पड़ने पर खिलाड़ियों को खेल प्रदर्शन भी चेक किया जाएगा।
How To Apply of

Income Tax MTS Tax Assistant and Income Tax Inspector Recruitment 2021
1. Apply

online MTS Recruitment 2021

by visiting the departmental website.
2. Click on the online application link provided in the Important Links Action.
3 Please read the official notification before apply online.
4. Follow all the instructions and keep the registration number and password safe with you.
5. Must fill all the details sought in the application form like name, father's name, date of birth, email id, mobile number, qualification etc.
6. Set the correct size of the document to be uploaded and keep it ready for upload.
7. Please check the application carefully before final submission.
8. Keep a print out with you for future use.
9. Submit the online application before the due Last date 

 25/08/2021.
Income Tax Department Vacancy 2021-  Before applying, the candidate should read the complete notification and carefully check the instructions given in the notice of examination.
Important Link
 Vande Matram
  अपने दोस्‍तो को शेयर करें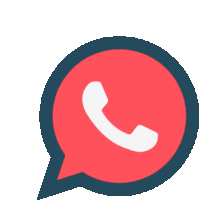 Share on Whatsapp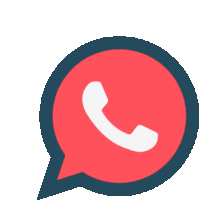 Read More